Who We Are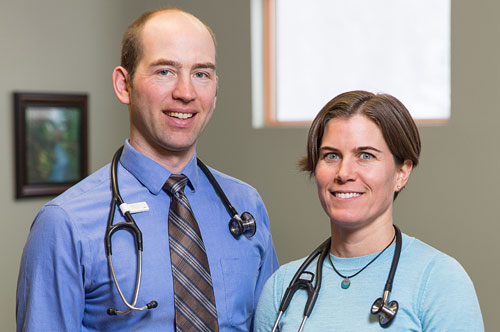 Drs. Christopher and Jennifer Dehlin, MD Family Medicine, who have been serving the Marquette Community for 10 years.
We are renewing our commitment to the community by opening our own practice
What We Do
Full service family medicine including…

• Infant, child and adolescent care
• Preventive care and chronic disease management for adults
• Prenatal care and delivery
• Urgent care for established patients
• Medical procedures including fracture care, laceration repair, skin cancer excision, vasectomy
• End of life care
---
Patient Portal
Our patient portal is our preferred method of non-urgent communication with our patients outside of appointments. For urgent needs please call our office at (906)662-4070. After hours you will be connected to the doctor on call.
Location
107 W. Main Street Suite #2
Marquette, Michigan 49855-4651
Google Map of our location
Phone: (906) 662-4070
Email us
Fax: (906) 662-4091
---
Holiday Hours
Wednesday 11/25 -Closing at noon
Thursday 11/26 and Friday 11/27 - Closed for Thanksgiving
Thursday 12/24 - Closed
Friday 12/25 - Closed
Monday - Wednesday 12/28-12/30- 10am-2pm
Thursday 12/31- 7:30am-12pm
Friday 1/1- Closed
---
Upstairs of Stevens Hardie Family Practice in the historic Depot building in downtown Marquette
---
If you have urgent medical needs you can page the doctor on call through at (906)662-4070.